Now I am not a big drinker and it is not for any real reason except that I do not like the taste of alcohol. I can do vodka mixed with other stuff so I cannot taste it but what is the use of that? Anyways I wish I could list the pumpkin beers or spiked cider or other festive drinks of the season, but I do not like any of them. So I will list some of my favorite seasonal drinks with no alcohol.
Despite not drinking a lot of coffee I really like Pumpkin Spiced Lattes from Starbucks. I feel that everyone and there momma like this but they are so dang tastey!
Sertinos Coffee is a local joint in the Golden Triangle and they serve a Mexican Hot Chocolate that is out of this world! It is steamed milk with Mexican spice chocolate and I wish it was colder in my neck of the woods so I could drink this more.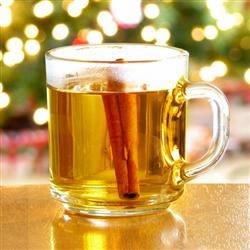 Hot Apple Cider
! I have never made cider but I always get it when someone offers but this recipe looks way too easy to pass up.
I love Tea Forte. I got this for Christmas one year and I have been drinking it like crazy ever since. Plus it helps me when I study, it is a great smooth and calming tea. And it doesn't hurt that the packaging is so darn cute especially if you have the cups to go with it. I am hoping to find a Autumn Collection like this or I my just break down and order it online.
It is true that all of these recipes can go throughout the whole cold season but it starts now.
What drinks do you devour this season?