So I have learned that HP is an incredible company. They have the absolute best technical support I have ever experienced. For Christmas The Mr. bought me a HP e printer.
This one to be exact. (it is now discontinued) I love this bad boy. The tablet (zeen) is removable and I can have it in any room and print from it check the status of the printer and use the apps to print coloring sheets and such. I also like that it has an e-reader ability, I read a few books on it.
In February the zeen started acting funny, I would try to turn the page and it would skip ahead like 20-50 pages so we called technical support and they sent us out a new one. We got it in 3 days and sent back the broken one and it has been great!
Skip ahead to about a month ago I walked into the craft room to see what kind of ink the printer takes to get more black ink and all of the lights were blinking and it could not connect to the internet. Now I thought it was just our router being on the complete opposite side of the house and the signal was not strong enough (we have had this issue with other devices), so we moved it the bedroom next to the router and it still could not connect.
We called HP tech support and we tried to fix the problem to no avail. We were told they would send us a new printer and do a swap and since we were unable to get the ink out of the printer they were also going to send us a new set of ink. Again I find this to be amazing. 3 days later we received the printer tried to set it up and the support people called us to set it up. We were not home the day it arrived so the next day they called us again. We tried to set it up with their help but the Zeen would not connect so they said that they would replace that as well. Again 3 days later we received the Zeen and they called us to set it up. I love how they called us, they knew when the package would show up and they called to help us. We didn't have to deal with being on hold going through transfers and being tossed around to get the issue solved, they called us!
Our printer is still not fixed and they are not sure what it is. Like I said earlier the printer we have has been discontinued, so to help us out with future problems they are sending us a different printer. I like the idea of the Zeen but I have a net book that I use all the time and another tablet device so we didn't use the Zeen all too often besides me reading on it occasionally when I didn't have any books in my Amazon account. (Zeen uses Barnes and Nobles). So we are getting this guy...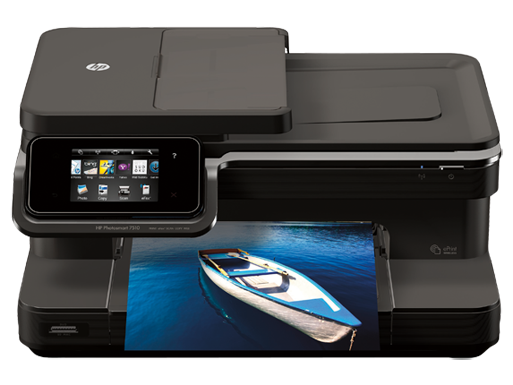 I love how they offered us this replacement, extra ink, and a 2 year warranty. I like the extra ink part the best of all because the ink alone is around 90 bucks for all 5 cartridges. We are getting extra ink plus the ink they sent us for not being able to get ink out of the original printer and the ink that comes with the printer. If you add the ink costs together it is the cost of a whole new printer.
I love that HP has made us feel during the process of the broken printer. They have gone above and beyond on helping us resolve the issue. I made sure to thank them for all of their help and they way they did not forget about us like many large companies do. They made sure to call us and did everything they could to fix the problems we had. Based on my experience I will always have an HP printer and if The Mr. does not build my next computer it will be an HP.